CITRUS BIOFLAVONOIDS COMPLEX 60% BY HPLC (60% HESPERIDIN) - FROM SWEET ORANGES
Also known as:
Flavonoids
,
Hesperidin
Distributed by LEHVOSS in:
all countries
Flavonoids
Also indexed as:Bioflavonoids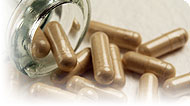 Flavonoids are a class of water-soluble plant pigments. Flavonoids are broken down into categories, though the issue of how to divide them is not universally agreed upon. One system breaks flavonoids into isoflavones, anthocyanidins, flavans, flavonols, flavones, and flavanones.1 Some of the best-known flavonoids, such as genistein in soya, and quercetin in onions, can be considered subcategories of categories. Although they are all structurally related, their functions are different. Flavonoids also include hesperidin, rutin, citrus flavonoids, and a variety of other supplements.
Reliable and relatively consistent scientific data showing a substantial health benefit.
Contradictory, insufficient, or preliminary studies suggesting a health benefit or minimal health benefit.
For an herb, supported by traditional use but minimal or no scientific evidence. For a supplement, little scientific support.
Our proprietary "Star-Rating" system was developed to help you easily understand the amount of scientific support behind each supplement in relation to a specific health condition. While there is no way to predict whether a vitamin, mineral, or herb will successfully treat or prevent associated health conditions, our unique ratings tell you how well these supplements are understood by the medical community, and whether studies have found them to be effective for other people.
For over a decade, our team has combed through thousands of research articles published in reputable journals. To help you make educated decisions, and to better understand controversial or confusing supplements, our medical experts have digested the science into these three easy-to-follow ratings. We hope this provides you with a helpful resource to make informed decisions towards your health and well-being.
This supplement has been used in connection with the following health conditions:
Used for
Amount
Why

Chronic Venous Insufficiency

500 mg hydroxyethylrutosides twice per day

[3 stars]

Flavonoids strengthen capillaries. A flavonoid derived from rutin, called HR, has been shown to be effective in clearing leg swelling and reducing other CVI symptoms.

Hepatitis

500 to 750 mg daily of catechins

[3 stars]

The flavonoid catechin has helped people with acute viral hepatitis, as well as people with chronic hepatitis.

Bruising

400 to 800 mg hesperidin with vitamin C daily

[2 stars]

Flavonoids are often recommended with vitamin C. Flavonoids are vitamin-like substances that can help strengthen capillaries and therefore may also help with bruising.

Cold Sores
(Vitamin C)

200 mg with 200 mg flavonoids, three to five times daily

[2 stars]

Vitamin C plus flavonoids may help speed cold sore healing.

Dysmenorrhoea

200 mg niacin daily, 300 mg vitamin C daily, and 60 mg rutin daily througout menstrual cycle; for cramps: 100 mg niacin every two to three hours

as Vitamin B3, Vitamin C, and Rutin

[2 stars]

Supplementing with a combination of vitamin B3, vitamin C, and the flavonoid rutin resulted in a 90% effectiveness for relieving menstrual cramps in one study.

Gingivitis
(Vitamin C)

300 mg of vitamin C, plus 300 mg of flavonoids daily

[2 stars]

In one study, supplementing with vitamin C plus flavonoids improved gum health in a group of people with gingivitis.

Glaucoma

Refer to label instructions

[2 stars]

In one study, supplementation with anthocyanins (a type of flavonoid) significantly decreased the amount of visual field loss in patients with open-angle glaucoma.

Haemorrhoids

600 to 4,000 mg hydroxyethylrutosides daily or 1 to 3 grams of a mixture of 90% diosmin and 10% hesperidin

[2 stars]

Supplementing with flavonoids may reduce symptoms. A number of flavonoids have been shown to have anti-inflammatory effects and to strengthen blood vessels

Hypertension

300–600 mg per day of hesperidin

as Hesperidin

[2 stars]

Hesperidin, a flavonoid found primarily in oranges and other citrus fruits, has been found to decrease high blood pressure.

Ménière's Disease

Refer to label instructions

[2 stars]

Certain flavonoids, known as hydroxyethylrutosides, have been reported to improve symptoms of Ménière's disease, including hearing problems.

Skin Ulcers

900 mg per day of diosmin and 100 mg per day of hesperidin

as Diosmin and Hesperidin

[2 stars]

One trial found that a combination of the flavonoids diosmin and hesperidin promoted healing of venous leg ulcers. Hydroxyethylrutosides (related flavonoids) may also help.

Allergies and Sensitivities

Refer to label instructions

[1 star]

Test tube and animal studies have found some effects from natural anti-histamines such as flavonoids, though no clinical research has shown whether these substances can specifically reduce allergic reactions.

Capillary Fragility

Refer to label instructions

[1 star]

Flavonoids may help strengthen weakened capillaries, possibly by protecting collagen, one of the most important components of capillary walls.

Gingivitis

Refer to label instructions

[1 star]

Shown to be effective against gingivitis when taken with vitamin C, flavonoids also appear to be effective by themselves at reducing gum inflammation.

Glaucoma

Refer to label instructions

as Rutin

[1 star]

The flavonoid rutin may increase the effectiveness of conventional medication in people with glaucoma.

Measles

Refer to label instructions

[1 star]

Flavonoids are nutrients found in the white, pithy parts of fruits and vegetables. Certain flavonoids have been found to inhibit the infectivity of measles virus in the test tube.

Menopause

Refer to label instructions

[1 star]

A preliminary trial reported that a combination of vitamin C and the flavonoid hesperidin helped relieve hot flushes in menopausal women.

Menorrhagia

Refer to label instructions

[1 star]

Flavonoids protect capillaries (small blood vessels) from damage. In so doing, they might protect against the blood loss of menorrhagia.

Retinopathy

Refer to label instructions

[1 star]

Quercetin has been shown to inhibit aldose reductase, an enzyme that appears to contribute worsen diabetic retinopathy. Another flavonoid, rutin, may also improve retinopathy.

Varicose Veins

Refer to label instructions

[1 star]

Taking hydroxyethylrutoside may help reduce the size of varicose veins associated with pregnancy.
Copyright © 2023 TraceGains, Inc. All rights reserved.
Learn more about TraceGains, the company.
The information presented by TraceGains is for informational purposes only. It is based on scientific studies (human, animal, or in vitro), clinical experience, or traditional usage as cited in each article. The results reported may not necessarily occur in all individuals. Self-treatment is not recommended for life-threatening conditions that require medical treatment under a doctor's care. For many of the conditions discussed, treatment with prescription or over the counter medication is also available. Consult your doctor, practitioner, and/or pharmacist for any health problem and before using any supplements or before making any changes in prescribed medications. Information expires December 2023.
This ingredient is listed in our following product categories